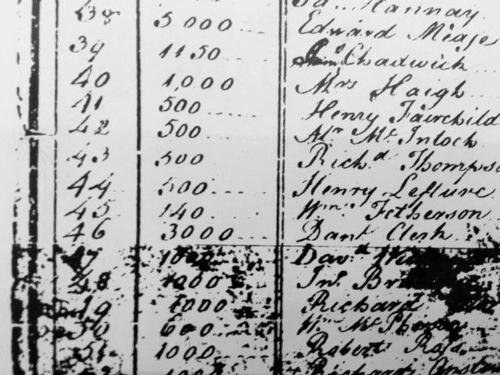 In 1774, Henry LaFlure was deeded 500 acres (plat 44) from Great Britian's King George III for his services of interpriting the Native Indian Language.
LaFlure's widow, Margarita, sells the property on June 15, 1787, to Benjamin Monsanto and his wife Clara.

In 1757 Isaac Monsanto, a Sephardic Jew born in the Netherlands arrives in New Orleans by way of Curacao establishing himself as a merchant and engaging in the business of shipping slaves and cargo from the Caribbean to the Gulf of Mexico. In 1767 Monsanto purchased a plantation known as Trianon outside of New Orleans. By the time the second Spanish governor took control in 1769, expelling the Jews from Louisiana, Isaac Monsanto had become one of New Orleans' wealthiest merchants. Under Spanish rule, Monsanto was stripped of his holdings and forced to leave the territory, relocating to the town of Mancha near Lake Pontchartrain in British territory, where he was joined by his brothers, Manuel, Jacob and Benjamin; while their sisters relocated to Pensacola, then part of British West Florida. Following Isaac's death in 1778, Manuel, Jacob and Benjamin Monsanto continued to manage their mercantile firm, dealing not only in dry goods but in real estate, commodities, debt collection and slaves. Records show that Benjamin Monsanto traded thirteen slaves for some three thousand pounds of indigo in 1785. By 1787, Benjamin and his wife Clara moved to a 500 acre plantation worked by eleven slaves on St Catherine's Creek near Natchez, Mississippi, where he continued operating part of the family business until his death in 1794.
1817 Spanish Architecture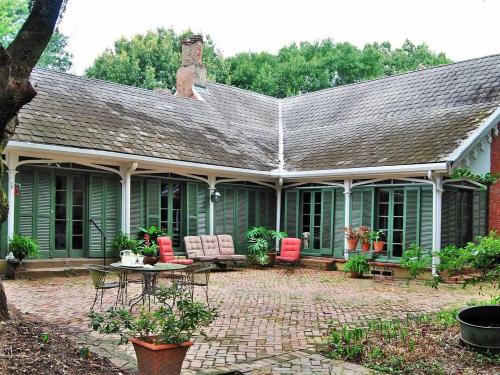 In 1816, when Charles Green purchased the homestead for his wife, the Spanish Government was in rule of the Natchez area. The Spainish architecture is displayed in the earliest standing structure of Glenfield consisting of three original rooms built to face the sun, as the Spanish worshiped the sun. Handmade brick gallery and patio with hand-hewn shutters were made for the home by the plantation slaves. This section of the home was built in 1817.
1845 - The Only English Gothic Home in Natchez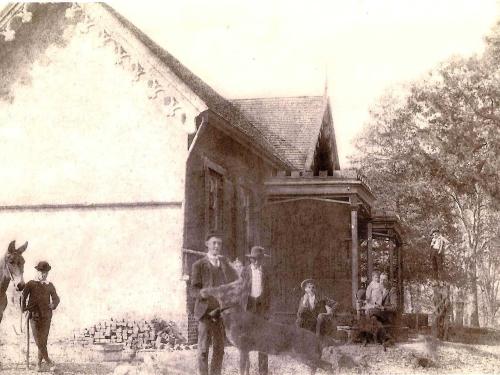 John McDonnell
, of Scotch-Irish decent, built the English Gothic home adjacent to the Green's Spanish structure in 1845, keeping it as a one level property. European craftsmanship detailed the construction of her every corner. From the handcarved Shamrocks on the roof's outline for "good-luck", the hand carved cornesses above each window casing denoting a family Coat of Arms, to the Italinate Marble Fireplaces gracing the rooms 15 foot ceilings. No detail left unturned. The home has not been altered from it's original build.
Henry LaFleur receives a British Land Grant in 1774 (tracts of this land grant will be used for what is now known as Glenfield);
Margarita LaFleur sells to Jacob Monsanto, June 15, 1787
Jacob died and left a widow, Clara Monsanto who married William Scott, March 4, 1807
Clara (Clarissa) Scott widow of William Scott, sold Glenfield and the land to Charles B. Green, January 31, 1816.
Charles B. Green and wife sold to Bank of Mississippi for debt on June 1, 1827
Bank of MS sold to Hugh J. Jones May 28, 1830
Hugh J. Jones sold to John M. McDonnell and wife, Henrietta.
McDonnell added English Gothic front to original dwelling.
John McDonnell sold to William S. Cannon and wife Jane Cannon May 10, 1851.
The Cannon's now call the home "Glencannon", purchase Marjorca Plantation to extend the land of Glencannon on May 12, 1858.
The Cannon's sold Glencannon and Majorca to O.K. Field, Sr. on April 2, 1880.
The home name changed to "Glenfield". The home Glenfield Plantation and 150 acres have been in the Field family for over 130 years.